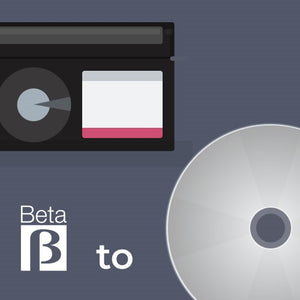 Transfer Betamax Tape to DVD
Preserve your video memories with our High-Quality Betamax to DVD conversion service. Older tapes were never designed to see more than 20 years of usage. With each playback, image quality is degraded and analogue technology is growing in incompatibly with new DVD players and devices.
Quality
We use high standard 'A' grade DVD-R discs and assure maximum quality when performing conversions. Our discs are designed to last for 100-200 years when kept correctly, ensuring the safety and quality of your footage. We will always endeavor to achieve a quality that is equal to that of the video. With your finished DVD, you should see a slight improvement in playback compared with the original media.
We do not put more than one tape on a DVD due to loss of quality. Each tape will be on its own DVD.
Our DVDs are encoded to be used on a normal standalone DVD player connected to a TV and computers/laptops with a DVD drive and the appropriate DVD player software, like Power DVD. Without DVD software on your computer or laptop, your device may not be able to play the DVD.
To use them on a computer or laptop without the appropriate DVD software, we advise that you opt for the MP4 format on USB stick.
Delivery
We take great care of your Tapes as we understand that your Memories are irreplaceable, and with each conversion, your disc will arrive with a colour label and protective sleeve. We'll also return your original tapes. We aim for a turnaround time of 7 working days. If we cannot transfer your tapes for any reason, they will be returned to you and you will be refunded.
We can transfer VHS, VHS-C, SVHS, Betamax, Video8, Hi8, MiniDV, Micro MV & Digital 8 Tapes from Camcorders and Video Recorders. We can also transfer from USB and SD Cards to DVD if needed. Contact us for more information.
We also repair any tapes (broken or snapped etc.), free of charge, if required before transfer.
Additional DVDs
To order additional DVDs on top of the 1 included DVD, visit our Additional DVD Copy product page and click Add to Cart. You can then select your desired quantity. Each additional DVD costs £3.99.

Sending Your Tapes
Package your tapes and send them to the following address. We recommend doing so by recorded delivery. Please attach a reference to your order number so that we can identify your tapes easily.
Please make sure your tape DOES NOT have Tape Mould before sending.
Your Video 2 DVD
61 Toronto Avenue
Livingston
EH54 6BN
United Kingdom
Ordering By Post
Alternatively, if you'd like to order and pay by post, please download, print our order form. Enclose your completed form with cheque or payment details to the address above.