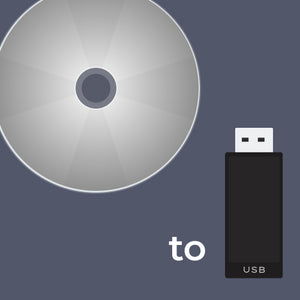 Transfer DVD to Digital USB Stick
Preserve your video memories with our High-Quality DVD to digital MP4 conversion service.  Please note we can only convert DVD's which you own, we cannot transfer any Commercial Copyrighted DVD's.

Once your DVD is converted to MP4 you will be able to edit it yourself and even upload it to YouTube or send it to friends and family members via any file sharing service such as Dropbox or email.

Please note the price of £9.99 is PER DVD to MP4 format and NOT how many USB Sticks are used, as the USB Stick is provided free with the conversion. 
All conversions will be stored on a single USB stick where possible. 

Compatibility
Our USB sticks are playable on Laptops or Computers (Windows or Mac) only, even if your TV or DVD Player etc has a USB socket they might not be able to decode the MP4 Video files.
Quality
We will always endeavor to achieve a quality that is equal to the original video. With your finished USB, you should see a slight improvement in playback compared with the original media.
Delivery
We take great care of your DVD's as we understand that your Memories are irreplaceable. We'll also return your original DVD's. We aim for a turnaround time of 7 working days. If we cannot transfer your DVD's for any reason they will be returned to you and you will be refunded.

Sending Your DVD's
Please package your DVD's and send them to the following address. We recommend doing so by recorded delivery. Please attach a reference to your order number so that we can identify your tapes easily.
Your Video 2 DVD
61 Toronto Avenue
Livingston
EH54 6BN