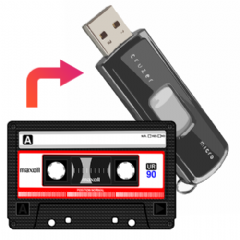 Transfer Audio Cassette Tape to Digital USB Stick
Preserve your Audio Tape memories with our High-Quality audio cassette tape to USB Stick service. Older tapes were never designed to see more than 20 years of usage. With each playback, image quality is degraded and analogue technology is growing in incompatibly with new CD players and devices. Please note your Audio Tape will be converted to MP3 format which can be played on Computers, iPhone etc.
Please note that the price is per tape, not per USB. All conversions will be stored on a single USB stick where possible. If you require additional USB Sticks, please contact us before ordering.
Delivery
We take great care of your Tapes as we understand that your memories and audio are irreplaceable. We'll also return your original tapes. We aim for a turnaround time of 7 working days. If we cannot transfer your tapes for any reason, they will be returned to you and you will be refunded.

Sending Your Tapes
Please package your tapes and send them to the following address. We recommend doing so by recorded delivery. Please attach a reference to your order number so that we can identify your tapes easily.
Your Video 2 DVD
61 Toronto Avenue
Livingston
EH54 6BN
United Kingdom